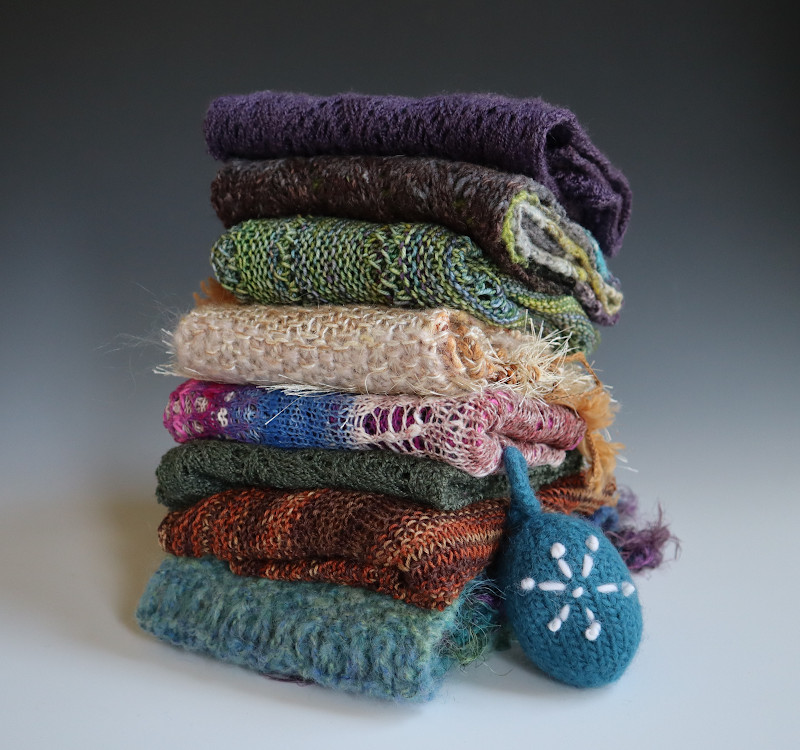 Ayala Sherbow
Fiber Art Wearables
I have been doing needlework of one kind of another since I was 9. My mother sewed our clothes when we were very little and did needlepoint, counted cross stitch, embroidery and crochet her whole life. She taught me to do all these.
I have amassed a large stash of yarn of a wide diversity of fibers and textiles which has become a playground for me to design in. I have been collecting thrift store wool sweaters for over a decade and I have a collection of vintage African sand glass beads from my travels in West Africa in the early 90's. I also recently rescued two large boxes of wool fabric. I have been inspired to create a collection of knit and felted scarves, shawls, bags, jewelry, lap blankets, and wall art using these resources. I am committed to recycling and upcycling, and am using repurposed fabric and findings from thrift store shopping to complement the supplies I already have.
Meaning and ideas and history and sentiment have always been important to me. I have always shopped at little roadside "Mom and Pop" antique stores and thrift shops, preferring something used and a bit "off" than something shiny and new and "manufactured." I am designing and creating pieces that are inspired by and incorporate the found, discovered, rescued, and thrifted, and reflect — perhaps in small, private ways — the things that matter to me and the themes and visual motifs that have resonated with me my whole life.